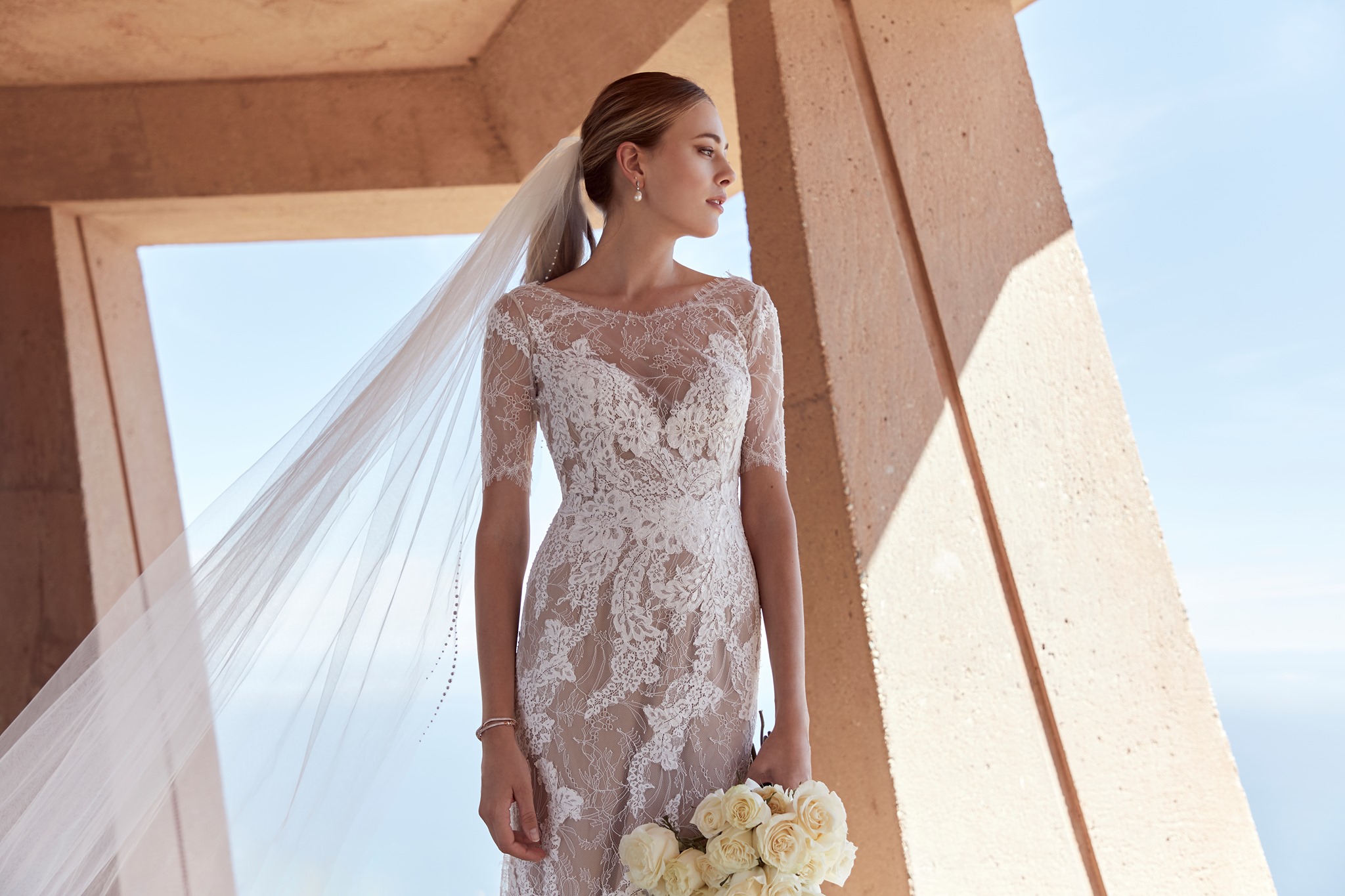 VELO YES OR VELO NO?
Dear girls, firstly we reassure you that the veil should not be seen as an obligation, but as a personal choice.

There are brides who dream of wearing it since childhood and others who just don't want to know. And they don't even want to try it!

Over time, the veil has lost most of its symbolic connotations and has become a very fashionable accessory. Certainly for those who decide to wear it, it represents the most loved, desired and romantic one. In short, it is the accessory capable of making everything a little magical.

We always try to respect what your indications are, without trying to convince you otherwise

Having said that, for those of you who don't want to give it up, we have some practical advice to suggest. The aim of course is to find the perfect veil for the perfect dress!

The possibilities are many but here we will provide you with general indications on the main models and combinations.

The veils can be made in any size. In general, if you opt for the long veil, it must be at least 15-20 centimeters more than the dress.

The veil is usually in tulle, but other light fabrics such as organza and chiffon can also be used.

The latter two have less transparency but are highly effective.

The veil can also be double dropped or single fall.

As for the finishes, the choice is very wide and should be made on the basis of the dress.

As a general rule we advise you to opt for a veil without borders or in any case with a light finish if your dress is full of details. On the contrary, if your dress is simple and minimal, you can dare with an important veil, for example with an embroidered lace border.

The simplest veils can be without any edging ("live" cut), or with some light application such as micro sequins or small light spots.

For the border, lace is always used, from the lightest like chantilly to the most important lace like rebrodè or macramé.

Or, for a more current effect, you can opt, always if the style of the dress allows you, for a satin, mikado or organza edge.

If you get married in common, we do not recommend the veil which is certainly more suitable for a church ceremony. Instead, you can opt for an accessory to put in your hair; flowers or something bright.

If you need suggestions and advice, write to us on info@lefatemilano.it!